Zolar X: Timeless
Album review by Sophie Auclair (CD, Alternative Tentacles)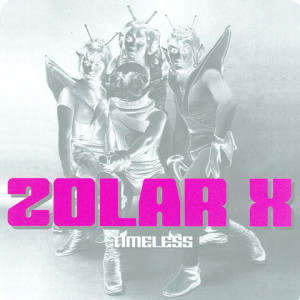 Girls do make passes at boys who wear make-up: just ask David Bowie, Bryan Ferry, Eno, and er, Gary Glitter. Keeping this in mind, Zolar X—self-described as L.A.'s first Glam band—must have attracted ladies in pink satin hotpants and the more unusual rock 'n roll stadium crowd of Trekkies. Decked up in silver bodysuits, Spock ears (nowadays referred to elf ears, I know), and the unavoidable space-fashion antennas, Zolar X's members proclaimed to be from another planet, sang about life and love with earthlings, and rarely came down from Cloud 9. An L.A. band that did not grow beards or smell of patchouli in 1973? It's no wonder they were rarely acknowledged in magazines and rock history encyclopedias until they got an honorable mention in the book We Got the Neutron Bomb, the tale of the Los Angeles punk movement.
Zolar X's fate is (maybe) about to change, since Jello Biafra, head honcho of Alternative Tentacles Records and no stranger to a little punk rock himself, gathered Zolar X's lost tapes, releasing the lot as Timeless, a compilation CD regrouping the band's recordings from 1976 to 1980. Veering from hard rock to glam-bubblegum pop, with some prog rock here and a lot of space rock there, Zolar X's songs prove once more that commercial failure never deterred a talented band, and that every dog (or alien) gets his own eventually. Founded by guitarist/songwriter Ygarr Ygarrist (commonly known to his folks as Stephen Della Bosca) and vocalist/lyricist Zory Zenith (Billy McCartney, among other aliases), Zolar X were caught between a rock and a harsh planet, much too strange-looking and dramatic for the average American teenager of 1972, but too gimmicky for the emerging underground punk scene of the mid-'70s. As legend would have it, the band hung out (and partied hard I'm sure) with Ace Frehley of Kiss, missing their chance to be signed by the latter's manager by a second—busy as they were fixing their hair at that moment—therefore entering a crowded galaxy known as "hitless wonders." Their shows were pure spectacle, in the tradition of vaudeville and '60s sci-fi TV shows, full of glowing props and glitter-spurting laser guns, a visual cosmic ecstasy devised by the band itself and Zenith's paramour Veonity Neill (were they the American David and Angie Bowie?); yet the music stands on its own.
Despite a slight tendency to go the Geddy Lee of Rush route on space-age odysseys like "The Horizon Suite" (in four parts) or the glam-opera "Plutonian Elf Story," Zenith and Ygarrist's combined vocals add a touching and reverberating note to "I Pulled My Helmet Off (I'm Going to Love Her)," not as corny as its title would have you think (yes, you can roll on the floor; the titles are hilarious). The surprises come from the first half of the compilation, songs recorded in 1979 and 1980 such as "Mirrors," a proto-new-wave anthem if there ever was one; "Space Age Love," the bubblegumpunk song the Sex Pistols wish they'd written in '78 instead of breaking up; and "Rocket Roll," as catchy and pogo-inducing as the best of Joey, Dee Dee, Johnny and that other seemingly interchangeable Ramone guy. The included 1976 tapes aren't bad either: tunes like "Nativity" and "What Is Music?" could singlehandedly shame classic rawkers like Alice Cooper and B.O.C., and send them back to songwriting school (well, for the exception of Alice's "Clones," which is perfection, and don't write me complaining it ain't). Credit must be given to Biafra, who did a marvelous job remastering Zolar X's entire catalogue and without whom this compilation would have probably never seen the light of day—at least in this universe.
For the sake of a group who put such a high premium on the visual, the CD includes numerous photographs of these androgynes, in concert and taken from sessions: yep, these homo sapiens knew their way around an eye-shadow brush. Some drawings made by an artist friend who went by the name of Etron (you can find him in the phonebook under Armando Norte), depicting the band members as fantasy comix characters, also adorn the booklet. Highly camp and resolutely Hollywoodian could be one way of describing Zolar X; misunderstood avant-garde rockers could be another. Me? I'm too busy putting up Zolar X's poster on my bedroom wall to bother with defining them right now.